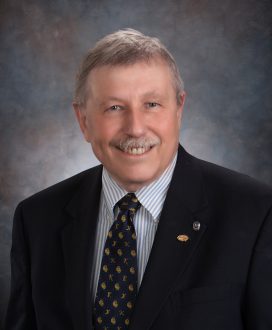 Jim Rochford
Jim graduated from Loras College with a double major Bachelors Degree in Business and Communications, where he served as student body president.
Jim would go on to graduate from John Marshal Law School in downtown Chicago in 1983. Jim served as the president of the student senate and received honors for graduating near the top of his class. While in law school as president of the student senate, He also worked at the Cook County State's Attorney office during law school in the felony division, where he prosecuted rape and armed batter cases under the supervision of a licensed attorney.
Upon graduation from law school, Jim worked at an insurance defense law firm in Chicago, where he handled a wide variety of cases including worker's compensation, personal injury defense, plaintiff personal injury cases, malpractice defense, criminal and municipality cases.
Jim then moved to Peoria where he worked for a local Peoria law firm for nearly two years.
Then, in March of 1986, Jim opened his own law firm: Jim Rochford and Associates.
Since opening his firm, Jim has successfully handled thousands of personal injury and worker's compensation matters. He successfully filed a federal due process lawsuit against the NCAA that received national publicity, including an article in Sports Illustrated.
He has also successfully handled numerous cases in federal court on a variety of legal issues, including trademark infringement, school law matters, administrative and numerous municipal matters. Jim served as the fire and police commissioner attorney for both East Peoria and Creve Coeur for several years. He also served as general counsel for the Peoria Housing Authority where handled many labor cases, collective bargaining negotiations, and numerous eviction cases. Jim never lost an eviction case during his tenure as general counsel for the Housing Authority.
Jim has successfully handled 4 Class X jury trials and thousands of lawsuits including both criminal and civil matters.
Jim is licensed to practice in the State of Illinois and the Central District of Illinois. He is also licensed to practice in 7th Circuit Court of Appeals.
Jim has also dedicated his time to serving the community throughout his life. Among his distinguished accomplishments, Jim has served as a worldwide leader for Kiwanis International. He served as the International President of Kiwanis during the 2017-18 fiscal year, tirelessly worked to promote and develop local community leaders in the Kiwanis organization throughout the world. Thanks to his leadership as president, Kiwanis set records in building new clubs and building membership during his presidency. Jim has been an active member in Kiwanis for nearly 40 years and has participated in countless fundraisers and service projects.
Jim's other notable community service accomplishments:
Jim successfully drafted Peoria's third All-American City Award, lead the fundraising effort to install the original lights on the Murray Baker Bridge, chaired the Bradley Men's basketball post-season banquet for 10 years, chaired the food stand at the Peoria's Park District fireworks for over 30 years, coordinated the acquisition and hosting of the VIP's to work the telephones for the MDA telephone for 5 years, past-president of Peoria Jaycees, past-president of Peoria Downtown Kiwanis Club, among many other community accomplishments.
In addition, Jim started an AAU basketball program called the Peoria Irish that he led for 15+ years helped over a hundred central Illinois kids successfully play college basketball.
Jim's greatest accomplishment is marrying his wife, Deb Rochford, and having three wonderful children along with 6 grandchildren.