Federal Law
Avoid Federal Law Complications with the Help of an Attorney
While laws at the local and state levels are what affect most individuals, specific federal laws are crucial to stay ahead of. Businesses are more likely to encounter federal law when ensuring they comply with all federal rules and regulations. However, individuals also encounter federal law for certain civil matters or some criminal cases. If you've found yourself wrapped up in a federal law case in Peoria IL, allow Rochford and Associates to lend a helping hand.
What is Federal Law?
Just as it sounds, federal law is the legal rules and standards established at a federal level. It consists of the U.S. Constitution, federal statutes and regulations, U.S. treaties and federal common law. However, as an Illinois resident, you will most likely never be involved in a case dealing with the Constitution or upper levels of government. Instead, there are federal laws that more directly affect individuals and businesses, which include:
Immigration Law
Civil Rights Law
Copyright Laws
Federal Criminal Laws
What Can Our Attorneys Do?
Rochford and Associates is not only well versed in Illinois law, but we understand the federal laws most important to our clients in Peoria IL and throughout the state. Our experienced attorneys can assist with federal legal matters involving:
Government Agencies/Programs – The legal paperwork required to successfully file for something like bankruptcy or social security can be challenging and time-consuming. Not to mention, if filed incorrectly, your appeals will be quickly rejected. Thus, our attorneys assist with filing all necessary paperwork and can help you deal with government agencies and programs you aren't familiar with.
Business Law – Our lawyers already have experience assisting companies navigate and abide by local and state business laws. Rochford and Associates can also help your business stay up-to-date with federal guidelines, rules and procedures that actively affect your operations.
Counsel and Representation – If you have been accused of a federal crime, you require immediate representation from an attorney. While more serious federal crimes involve acts of terrorism or child pornography, additional cases you encounter can encompass copyright issues, discrimination suits, cases of fraud, etc.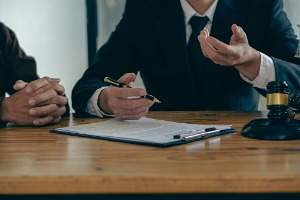 Call Rochford and Associates
If contending with matters of federal law, Rochford and Associates can provide you with the legal support you need. Allow our team to assist, whether managing government agencies or representing you in court. Learn more about our services by contacting us at 309-637-5322 to request a consultation. We are located at 101 SW Adams St, No 700, Peoria, IL 61602.