Dog Bites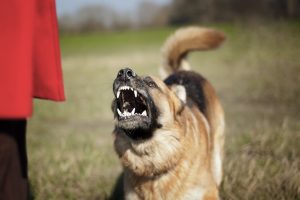 Dogs may be man's best friend, but that doesn't mean every dog is your best friend, or that accidents never happen.
The U.S. Centers for Disease Control and Prevention reports that as many as 4.5 million dog bites occur in America each year. Dog bites are common, and each bite is different. But whether a bite is "no big deal" or potentially life changing depends on the dog, its health, your health, the location of the bite, whether the dog was leashed, and other factors.
Peoria dog-bite injury attorneys Rochford and Associates can help
Your reaction to a dog bite can range from avoiding the house where the dog lives to contracting an infection or a disease that affects your ability to function at home and at work. Though you might never feel at ease around dogs again, a financial settlement can go a long way toward putting the dog bite behind you. Peoria personal injury lawyers Rochford and Associates can obtain the compensation you deserve to get your life back on track.
Rochford and Associates fight for the rights of people who have been injured, ensuring that they receive proper medical care and every financial benefit available to them under the law. They are well-known and well-respected in Illinois and has a reputation among their clients for their bold and unorthodox approach to obtaining the maximum monetary awards for their injury clients.
Call today to begin your financial and emotional recovery
Don't let an unruly dog's bite rule your life. If you were bitten by a dog, call us at 309-637-5322 for a free phone consultation. Any information we receive from you will be kept completely confidential.
You deserve justice and compensation for your injuries. Call 309-637-5322 today.