Civil Litigation
Peoria's Proven Legal Specialists for Civil Litigation and Defense
Whether you are looking to defend against civil claims or wish to file a claim of your own, you can count on the legal professionals at Rochford and Associates. Our team has managed all areas of civil litigation, be it personal injury, medical malpractice, defective products, business litigation, construction litigation, dram shop, or otherwise. Rochford and Associates has extensive experience representing both individuals and companies in complex litigation lawsuits. No one deserves to pay for the consequence of another individual's or party's actions. Thus, Rochford and Associates works diligently to provide our civil suit clients with the legal support and counsel they require.
What is Civil Litigation?
Civil litigation is a wide-reaching practice that covers non-criminal legal cases where monetary damages are pursued for the physical, mental or financial harm of one party due to another party's actions. Rochford and Associates' civil litigation attorneys can represent the defendants or plaintiffs in various civil suits. Our law firm employs legal professionals with specialties in all areas of civil litigation to provide as applicable representation as possible. Of the practice areas that fall under civil litigation, our attorneys for Peoria IL have experience with:
Construction Litigation
Dram Shop
How Can We Help?
As civil litigators, Rochford and Associates' attorneys take on numerous roles. Our team can assist from the outset and provide clients with legal representation if a case progresses to court. Some of what your civil law attorney for Peoria will provide include:
Case Evaluation – We sit down with our clients to discuss the details of a case. During an initial case evaluation, we will establish the facts and lay out potential ways forward in implementing or defending a civil suit. If we can take on your case, we will discuss how representation will work and take the first steps toward preparing your suit or defense.
Suit Resolution – If there is a possibility of resolving your case out of court, our attorneys will make every effort to do so. Resolution can involve processes such as mediation, arbitration, conciliation, etc. Additionally, if enough evidence and testimony are already bolstering a case, we can seek a settlement out of court.
Trial – If an agreement on resolution cannot be met outside of court, a case will proceed to trial. In preparation for your court date, Rochford and Associates will build your case using evidence and testimony gathered supporting your side of a dispute. We will always aim to get you the best possible results based on our available resources and the circumstances surrounding your case.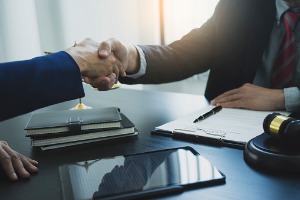 Call Rochford and Associates Today
If you or someone you love is contending with serious harm or injury due to the actions of others, you have a right to pursue civil litigation. To learn more about Rochford and Associates attorneys and how we can assist with your case, call today at 309-637-5322 for a consultation. We are located at 101 SW Adams St, No 700, Peoria, IL 61602.