Don't Wait to Get a Car Accident Attorney in Peoria IL
We count on our cars so much that if we end up getting in an accident, we typically just want to get back on the road as quickly as possible. Because of that, some people miss the opportunity to get compensation for damages others cause. At Rochford & Associates, we believe if you get into an accident, you should hire a car accident attorney in Peoria IL immediately. It is not your responsibility if you're injured by someone else. Let us sort through the details to get you the compensation you deserve.
Rochford & Associates Has the Experience
For nearly four decades, Rochford & Associates has been representing the people of the Peoria area. As a highly respected team, people know us for our bold approach and our ability to maximize money for injured clients. In fact, Rochford & Associates will always advocate for you. We want you to have the peace of mind necessary to recover from your accident. And our team will hold the parties responsible accountable.
From the very second you get into an accident, there are many factors to consider and keep track of. At Rochford & Associates, our lawyers have been through the process many times and will make sure you don't miss any of the minutiae. Our experienced team will ensure that you get the absolute best representation so that the only thing you need to worry about is recovery from injury.
Let Rochford & Associates Help
Our legal system was designed to treat individuals fairly. That's why we work to make sure your rights are upheld. Don't let it feel too big to do something about it. The lawyers at Rochford & Associates are here to help you navigate the ins and outs of the legal system. We spend our days working hard to get the best financial compensation for our clients, fighting hard to honor your rights. And our goal is to get everything what you need to recover from the accident. When you need a car accident attorney in Peoria IL, we're on your side.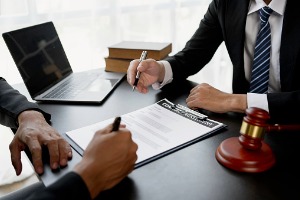 Contact Us Today
Don't wait to hire a car accident attorney in Peoria IL. Call our team today for a free phone consultation. You can reach our office at 309-637-5322. Let us start fighting for you today.