Find Help Navigating Real Estate Law in Peoria IL
Whether purchasing or selling a piece of property, dealing with the local real estate market can be exhausting. Not to mention, real estate law for Peoria IL and throughout the state can further complicate your sale or purchase. Thankfully, there are legal professionals equipped to handle the intricacies of Illinois real estate law. Trust the Rochford & Associates team to provide legal guidance through the real estate process.
Why Should You Hire an Attorney?
Unlike many other states, Illinois doesn't require property buyers and sellers to have an attorney present at a transaction closing. However, that doesn't mean it's beneficial for an attorney to facilitate your sale's closing. Additionally, having an attorney assist with other parts of your property transaction helps ensure a simple process where all parties are appropriately compensated.
Double Check Documents

The contracts, lease agreements, and assorted paperwork related to a property sale are all essential and legally binding! If mistakes are made in legal documentation regarding your real estate transaction, it can cost you thousands to correct. Thus, having an attorney to prepare and proof documents throughout the sales process can ensure potentially costly mistakes are avoided.

Perform Title Searches

At first look, a piece of property might seem like the perfect pick for your new home or business. However, while appealing on the surface, there could be legal issues with your property you aren't aware of. For example, the previous owners could have taken out a lien on your property or have unpaid property taxes (which become your responsibility on purchase). Thankfully, such scenarios are easily discovered and resolved with a title search and work from an attorney.

Facilitate Property Sale Closings

Although having an attorney present at closing in Illinois isn't required, it's still highly recommended. A third-party help with final negotiations can ensure a sale goes smoothly for all parties involved. A real estate attorney can manage tasks like handling documents, managing the distribution of funds, coordinating communication between parties, and recording a sale for public records.
Our Additional Practices
Real estate law in Peoria IL isn't the only area Rochford & Associates is well versed in. We employ attorneys specializing in various practices to offer Illinois residents the broadest range of legal services. Our team first focused on civil litigation, assisting in cases involving auto accidents, dog bites, medical malpractice, and other personal injury suits. Today, Rochford & Associates can provide continued legal support for legal matters involving: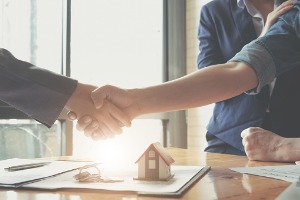 Talk with Our Team
Ensuring the property transaction process is quick, efficient and error-free is only possible with the support of a real estate attorney for Peoria IL. Be sure to reach out to the legal professionals at Rochford & Associates today! You can contact us at 309-637-5322 to request a free consultation. We are located at 101 SW Adams St, No 700, Peoria, IL 61602.