Do You Need a Civil Litigation Attorney in Peoria IL?
Are you the victim of a severe accident or injury? Or, are you facing accusations that you're the cause of another individual's injury? On either side of a personal injury case, you need an experienced civil litigation attorney for Peoria IL to help protect your rights. Thankfully, the Rochford & Associates team has litigated hundreds of civil cases throughout the Greater Peoria area. With help from our attorneys, we can put your case on track toward a positive resolution.
Reasons for Hiring an Attorney
The big question: is a civil litigation attorney necessary for your case? The short answer: yes! Having an attorney represent you and provide counsel significantly increases the chances of winning your case. Additionally, an attorney can open up new legal avenues not initially available. Whether pressing or defending against litigation, having an attorney proves incredibly beneficial to your results.
Leveling the Playing Field

If defending against litigation, you always have the option to represent yourself in court. However, doing so puts you at a significant disadvantage. It's common for individuals representing themselves to not put the time and effort they should into preparing their case. Not to mention, not having in-depth knowledge of local civil law can open you to attack during a case. Thus, having an attorney provide representation can immediately level the playing field.

Providing Evidence

A positive outcome is unlikely without comprehensive evidence supporting your side of a civil case. And finding the evidence you need can prove challenging if doing so alone. Conversely, having an attorney gather evidence can ensure your case is sufficiently supported. Rochford & Associates understands what sort of evidence a court considers appropriate. Furthermore, we can use the evidence and testimony we gather to build a compelling argument for your side of a case.

Managing Legal Complexities

In truth, building or defending against a civil litigation case is no easy task. It takes significant time, money and effort to put together a case that has a shot at being successful. Thus, an attorney can manage the legal complexities of your case. We will assist in filing paperwork, managing deadlines, adhering to procedures, etc. Having an attorney handle the most challenging intricacies of litigation ensures no mistakes are made, and you can focus on the big picture.
The Cases We've Managed
As mentioned before, Rochford & Associates has extensive experience as a civil litigation attorney for Peoria IL. Our team has managed hundreds of cases involving accidents, harm and injury. Working with our team, we can help you either secure maximum compensation for your claim or fight inaccurate accusations of personal responsibility. Examples of civil litigation cases we have taken include:
Construction Litigation
Dram Shop Cases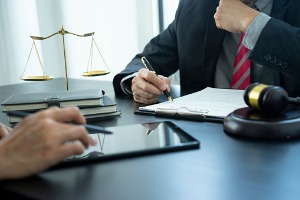 Give Us a Call
If seeking a positive outcome for your civil litigation case, ensure you have the support of an experienced civil litigation attorney for Peoria IL. Give the Rochford & Associates team a call today! You can contact us at 309-637-5322 to request a free consultation. We are located at 101 SW Adams St, No 700, Peoria, IL 61602.