Hire the Right Eviction Lawyer in Peoria IL
Both sides of a lease agreement require responsibility from the signing party. On both sides of an attempted contract termination and eviction, each party has rights. That's why, whichever side you are on, you'll want an experienced eviction lawyer in Peoria IL. You'll want an experienced lawyer who knows the ropes and is able to help you feel a sense of confidence as your case is brought to conclusion. You'll also want to ensure this issue doesn't follow you into the future will require professional aid. That's where Rochford & Associates can step in.
What are Your Rights?
As a landlord, you have the right to expect your lease agreement to be upheld by your tenant. Continued violations of that contract give you the right to terminate a contract and force evictions. But that doesn't mean the eviction will be easy. That's why you need a lawyer to help you navigate the difficulties involved in an eviction.
As a tenant, you also have a right to expect that your lease agreement is upheld, and you cannot be evicted without notice or reason. A lawyer can help you know how to handle the eviction and what legal recourse may exist.
On both sides of this issue, the team at Rochford & Associates will advocate for you. Our team is tenacious in its advocacy for our clients. But we also understand that both landlords and tenants have very different outlooks on this issue. That's why our team always maintains the utmost of professionalism throughout this process. We know we represent you and we have your best interest in mind.
Over 35 Years of Experience
Since 1986, the team at Rockford & Associates has been handling civil litigation in the Peoria area. In addition to landlord tenant law, our experience spans from personal injury, accident, and business law to real estate and workers compensation. Our team is always prepared to fight to get the best outcome for you. Our experience in negotiations and trial will be brought to bear on your behalf. Let us take the stress away from you.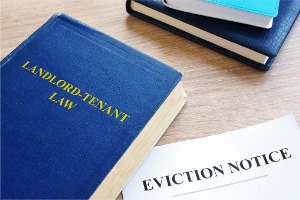 Contact Us Today
No matter what side of an issue you are on, using a professional to handle your leasing issues is important so that you remain protected. Contact our team today at 309-637-5322 so that you can find out how we can help by being your eviction lawyer in Peoria IL.