Don't Sign Anything Before Getting a Truck Accident Lawyer in Peoria IL
Moments after an accident can be chaotic. Accidents aren't things most of us have experience with. But if you've been in one, know that somebody has been through it and that's why you should seek a truck accident lawyer Peoria IL. That's where Rochford & Associates can step in. Our team is here to advocate for you so you can close this chapter and move forward with confidence.
Understand the Do Nots
If you've been in an accident or have been injured, there are certain things you should never do without representation. Here's what you need to know:
Do not sign anything – Without appropriate legal advice you can't be certain of anything you sign. The post-accident chaos is something everyone should have a professional help them navigate.
Do not let fear be why you make decisions – We understand that you have practical day-to-day problems that need to be addressed. Our team can and will show you how to deal with those problems, so you don't have to forego the medical care and financial compensation you are entitled to.
Do not give a statement – Things you say during the chaos and confusion of an accident can be used against you later. Working through council will allow you to ensure you don't step on any of those legal landmines.
Do not accept a "Standard formula" settlement – There is no such thing as a standard formula. All cases for injured people are individual and deserve the attention required to make things right.
Do not let anything stop you from obtaining legal counsel – Even if you're worried you've committed one of the other do nots, do not let that stop you from seeking our advice. Rochford and Associates is so committed to help you be made whole that we offer free injury consultation so you can find out how to move forward from here.
About Rochford & Associates
Rochford & Associates has built a name thanks to our capabilities in civil litigation. Our team's focus includes such cases as workers compensation, auto accidents, personal injury, and additional types of civil law. Our practice also extends into landlord/tenant issues, estate planning, family law, and more. We're here to support all your legal needs.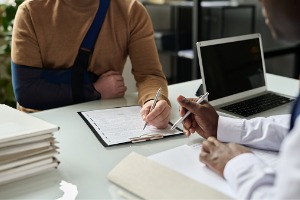 Contact Us Today
Don't sign anything before you've talked to us. When you call immediately, you can rest assured you'll have the right information from which to make an informed decision. Call the team at Rochford and Associates at 309-637-5322. We are ready to be your truck accident lawyer in Peoria IL.