What Qualities Should You Look for When Retaining a Personal Injury Attorney?
Hiring An Attorney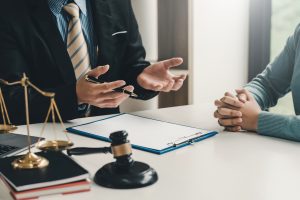 Interviewer: What makes you different from the other experienced, as well, auto accident attorneys in your area? Why you?
Experience and Training Are Important Attributes
Rochford and Associates: What makes me different is I have not only my own 35 plus years of experience but the fact that I am also extremely good at coaching people. I take a personal interest in my clients. I don't just meet them one time and get everything signed up.
Is the Attorney Involved in All Aspects of the Case?
I meet them on a regular basis, just like they would meet their doctor. I want them to call in to my team every time they make changes. If they go from three times a week of therapy to two times a week of therapy, I want them to be calling into my office.
Does the Attorney Have the Resources to Devote to Your Individual Case?
We have a case manager system in my office. When one of my client's needs to call in my office, they call the case manager and let the case manager know what's going on. I want them to call if they had a change on their treatment or if they have a question.
I want them to have somebody that's assigned to their case that they can talk to. They should talk with somebody that has experience.
Not only do they have me personally working on the case and my experience and my ability to coach them along the way, they also have a trained case manager that's assigned to their case. They're not just going into some secretary that's responsible for all the cases in the office.
Does the Attorney Seem to Have Many Other Clients and If so, Will Your Case Receive Individualized Attention? Does the Primary Attorney Appear in the Advertisements but Delegates the Case to an Associate?
A number of lawyers will advertise on television and it's the main lawyer that's talking on the television commercial. When the person goes into the law firm to hire them, they end up with an associate. When they come into my law firm, they get me and they get a case manager that's experienced.