Nicholas Rochford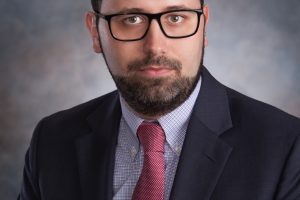 Nick was born and raised in Peoria, Illinois and is married to his dear wife, Kaveri. He attended Peoria Notre Dame High School where he played 4 years of varsity basketball before beginning his college basketball career.
He graduated from Monmouth College with a Bachelor's Degree and double major in Business Administration and Economics.
Nick graduated from Northern Illinois Law School in the top of his class in 2.5 years in December of 2018. While in law school, Nick worked on a 711 license at the Peoria County State's Attorney office where he handled traffic, DUI, and misdemeanor matters. He also law clerked at Rochford and Associates.
Upon graduation from law school, Nick began working at Rochford and Associates as a full-time associate. Nick has experience handling complex civil litigation matters, including personal injury and workers compensation, criminal and traffic matters, family law, estate planning, business law matters, and immigration. Nick spent nearly 2 years working with the Peoria County Public Defender's Office where he handled hundreds of DUI and traffic related matters.
Nick is licensed to practice in the State of Illinois and the Central District of Illinois.
Nick has been on the Leadership Council for Heart of Illinois Big Brothers Big Sisters for 2 years, he is a board member at St. Augustine Manor, and Nick has participated in numerous fundraising and community service events in the Peoria community, including the Stand Down for the Troops, CareerSpark, and numerous Kiwanis related fundraisers.